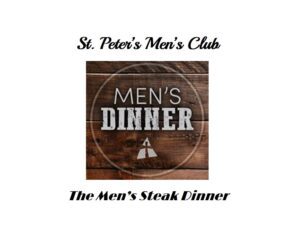 Time to register is running out!  The last day to register for the Men's Club Dinner is Monday, June 12, 2023. If you have not done so already, please contact jwinkworth21@gmail.com and also indicate your main course preference.


Tuesday, June 27th, 2023
Main Course Options: Steak or Chicken
Cost: $20 / person
Program Schedule: Cocktails @ 5:30pm / Dinner @ 6pm / Speaker @ 7pm
Guest Speaker: Syd Birrell – St. Peter's Organist & Choirmaster
Please bring cash only for the event. (Tap, debit and credit cards are not being handled by volunteers for payment).
Tickets are to be paid for at the door and there will be a cash bar available at the dinner as well.