REGULAR SERVICES
St. George's Chapel of St. Peter's Church, Cobourg, opens for regular worship Easter Sunday of each year with services continuing until the final Sunday of October.
All services begin at 10 A.M. with Morning Prayer on the first, third, and when applicable, fifth Sunday of each month. The Service of Holy Communion is celebrated on the second and forth Sunday of each month.
Note: Services for 2018 begin as of May 6th at 10:00 AM.
Please join us for services and coffee following the service. Everyone is welcome!
Deputy Warden:  Rose Wood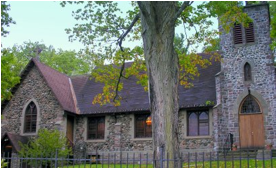 FOR SPECIAL SERVICES
For Baptisms, Confirmation, Weddings or Funerals call or email The Rev. Canon Ric Miller at St. Peter's Church at 905-372-3442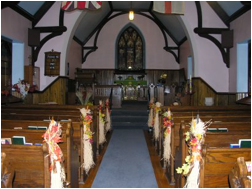 HISTORY
The original St. George's Anglican Church was erected in 1847. This Historical stone church sits at the top of Church Hill Road, overlooking Rice Lake. The first service was held on January 1, 1848.  Thomas and Catharine Traill and their family were among those in attendance. In 1867, The Rev. Archibald Lampman arrived as rector and his incumbency lasted for seven years. By the end of the 19th century the fifty-year-old church was deteriorating and no longer safe.
The present church was built in 1908. Stones gathered from nearby fields by the men of the church helped to keep down the cost of rebuilding. Its gothic design is based on that made by Architect, J. A. Ellis.