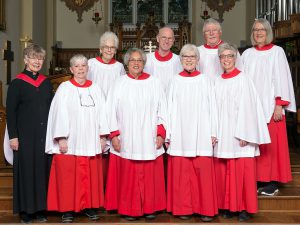 Senior Choir – under the direction of Dr. Roseanne Kydd
The senior choir leads the music at the 10:30am service every Sunday. Rehearsals are held Thursday evenings from 7:00 pm to 9:00 pm in the Sheppard Auditorium. Occasionally extra rehearsals help us to prepare for the Festival Seasons of the church year. On most Sunday mornings the Senior Choir sings an anthem.
Membership in the choir is open to anyone who likes to sing. Reading music is helpful, but not essential.  Rehearsals involve warm-ups and instruction for improving vocal technique. You do not have to phone ahead or audition. Arrive a few minutes early on a Thursday evening so that a music packet can be put together for you.