Purpose and Function of the Chancel Guild
The Chancel Guild undertakes a wide range of duties in preparation for services in the church and chapel. These include maintaining and preparing linens, brass and silver ware, communion vessels and their contents, etc. They also obtain and arrange floral decorations.
The appointment as a Chancel Guild member is made by the Priest-in-Charge.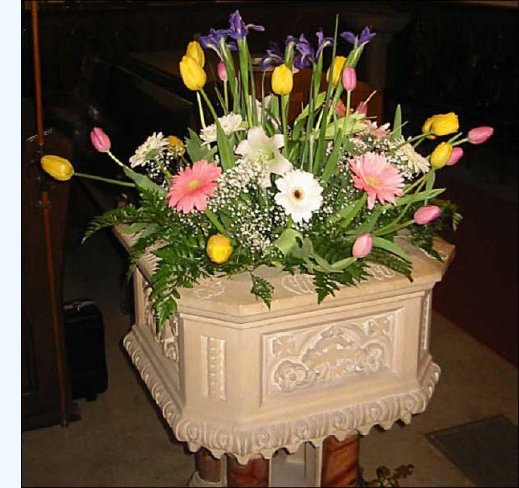 New Members Welcome
The St. Peter's Chancel Guild is looking for new members.
While the membership of the Chancel Guild in the past has been mainly women, men are most welcome.  If you have an interest in this vital ministry at St. Peter's, please contact the Church Office (905 372-3442).
Generally we average 4 hours per month to prepare the church for worship. There are always teachers and a manual available. You never work alone. Chancel Guild work demands time, discipline and a regular commitment.
In the Sacristy there is a Manual which specifies preparatory works required and each member is expected to maintain her own notes of minor changes or directions.
We meet as a group several times each year to make special preparations and cleanings for major Festivals such as Harvest and Christmas.
Please note: We have a specific orientation and will welcome any who feel the desire to try this duty/responsibility.
As a Guild we are assigned and divided into 'Weeks' following the Anglican Church Calendar and Priestly direction for correct 'Colours' and Services. Regular duties require attendance on your 'Week' to clean and prepare the Chancel area, Brass, Flowers, Linens etc. The 'Week' on duty is also responsible to attend and prepare for any other Services e.g. Tuesday 7.30am and Thursday 10.00am, Sunday Chapel service 10.30am, Funerals, Weddings and Sacramental Events.